Evangelist Ross Crowe | International Falls, Minnesota

| | |
| --- | --- |
| | |
RECENT
Evangelist Ross Crowe | Book of I Thessalonians
| | | |
| --- | --- | --- |
| | | SUN 11/28/2021 |
| | | |
| --- | --- | --- |
| | | SUN 11/14/2021 |
| | | |
| --- | --- | --- |
| | | SUN 11/07/2021 |
| | | |
| --- | --- | --- |
| | | SUN 10/31/2021 |
| | | |
| --- | --- | --- |
| | | SUN 10/24/2021 |
DECEMBER 2021
Su
Mo
Tu
We
Th
Fr
Sa
1
3
4
5
6
7
8
9
10
11
12
13
14
15
16
17
18
19
20
21
22
23
24
25
26
27
28
29
30
31

| | | | |
| --- | --- | --- | --- |
| Recent LIVE VIDEO | WEBCASTS | | |

Sun Nov 28

// 11:00 AM - 12:14 PM

6 viewers

Sun Nov 14

// 10:43 AM - 11:56 AM

3 viewers

Sun Nov 7

// 10:42 AM - 12:09 PM

6 viewers

Sun Oct 31

// 10:59 AM - 12:06 PM

1 viewers

Sun Oct 24

// 10:44 AM - 12:08 PM

5 viewers

Sun Oct 17

// 10:57 AM - 12:02 PM

6 viewers
We are a multiethnic, economically diverse, servant minded people, committed to Great Commission living. "And he said unto them, Go ye into all the world, and preach the gospel to every creature." Mark 16:15,16. The church then is a group of born again people (those who accepted the biblical... (

more..

)

Sunday
Fellowship Time... 9:30 a.m.
Morning Service... 10:00 
Sunday School ... 11:00 a.m.
Evening Service ... 6:00 p.m.

Wednesday
Patch Club ... 6:00 p.m.
Teen Study/Prayer ... 6:00 p.m.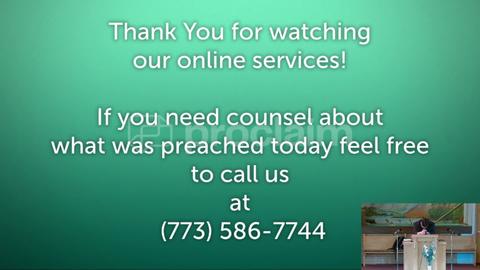 Chicago, IL
Garfield Ridge Baptist Church
William Shishko
A Visit to the Pastor's...